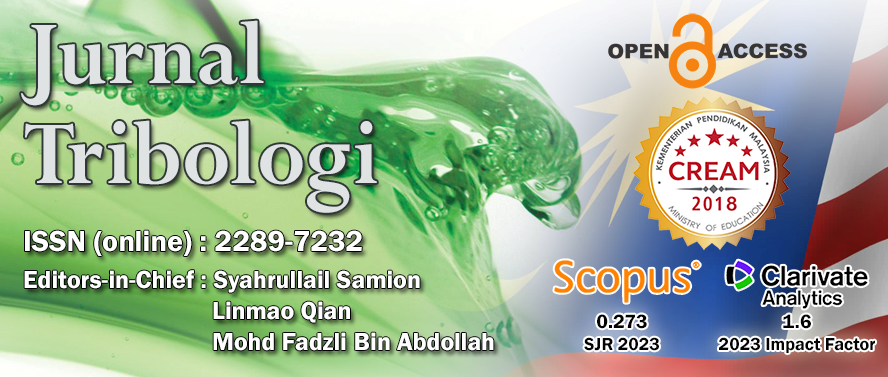 AIMS AND SCOPE

Jurnal Tribologi aims to publish full research papers of original, significant and highest scientific quality, and so to provide a platform for researchers, engineers, academicians as well as industrial ...
NEWS & UPDATES
New Editorial Board member for Jurnal Tribologi starting from 1 April 2022 [more info]
Call for abstract: The 4th MYTRIBOS International Symposium (deadline 15 May 2022) [more info]
Call for participation: 3 Minutes Tribo-Talk Talent (3MT3) (deadline 20 June 2022 [more info]
New annoucement of the MYTRIBOS Excutive Board 2022-2023 [more info]
The example of Microsoft Word template is available to help in the preparation of the manuscript ... [download]
GUIDE FOR AUTHORS

Manuscripts submitted to Jurnal Tribologi must be original work that has not been published or under consideration for publication elsewhere. The journal submissions must be ...
ABOUT THIS JOURNAL

Jurnal Tribologi is a publication of Malaysian Tribology Society (MYTRIBOS). This journal is an open access of peer-reviewed international journal, dedicated to the rapid publication of high quality ...